Patient Story: Rear Ending Leads to Eye Opening…

Dr. Brostrand, DVC Professor and Rehabilitation Counselor and a patient of Dr. Strand's, shared her story.
Imagine your life around the holidays. Lots of things to do, places to go, people to see… There never seems to be enough time. We've all been there.
Now throw in a major crisis – like being rear-ended on the freeway. Yikes, right? The world as you know it gets totally tossed about as you now have to deal with doctors and drugs and physical therapy, not to mention insurance companies and an onslaught of bills. Not a good thing.
Heather Brostrand experienced this very scenario.
After her visit to the emergency room, where they examined her, recommended a CAT scan, and released her with multiple prescriptions and an off-work order, she decided to take matters into her own hands, and reached out to Dr. Strand.
To her surprise, he was in the office and could see her immediately — putting her on the road to recovery quicker and eliminating the need for many of the drugs that were prescribed. She was able to return to work the following week.
Here's what she had to say about that experience:
Dr. Strand totally came through for me when I called 5 hours after I had been rear-ended on the freeway – and it was over the holidays! I had no idea how much I could benefit from chiropractic care in my acute post-injury phase.
Not only was I able to get back to my fully functional self with Dr. Strand's help, but I also managed to weather the financial storm a disruption like this can trigger. Dr. Strand worked with me to figure out a reasonable rate, when my health-plan coverage reached its limit. That was a huge relief!
I first started seeing Dr. Strand four years ago for chronic hip-muscle pain, following ankle surgery in 2003. I remember being kind of hesitant to try him, because I am not in great shape, and I didn't want to feel like a total blob, sitting in his waiting room.
I am so glad I stepped through his door! I have been THRILLED with Dr. Strand's fantastic "bedside manner". He always makes me feel important and listened to. I have referred a number of my co-workers to Contra Costa Chiropractic. Even the receptionist, Day, is one of the nicest front office people I've ever met!
Dr. Strand has made me a firm believer in the benefits of chiropractic care – for injuries AND regular maintenance of my body. I want to improve my physical health, and he is a big part of that.
Dr. Strand has definitely made a difference in my life. – Dr. Bro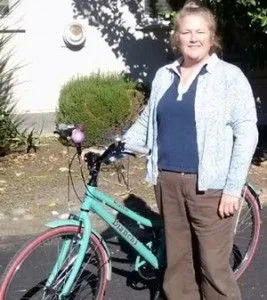 Here's me on my bicycle. Talk about getting you moving and keeping you moving; I'm functioning better than ever, thanks to Dr. Strand.